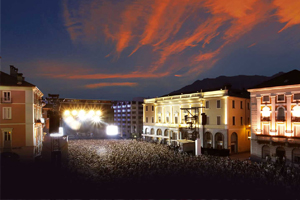 Moon & Stars Locarno
14.07.2017-22.07.2017Concerti pop e rock in Piazza Grande a Locarno, una delle piazze più spettacolari d'Europa. In questa cornice unica ha luogo il rinomato festival Moon and Stars, dove stelle internazionali del olimpo musicale si esibiscono davanti a migliaia di spettatori. Grandi concerti, organizzazione impeccabile e la magia del posto sono proprietà che rendono Moon and Stars un evento top.
Freitag, 14. Juli: Macklemore & Ryan Lewis & J-Ax & Fedez
Samstag, 15. Juli: Zucchero & Special Guest LP
Sonntag, 16. Juli: Söhne Mannheims & Andreas Bourani
Montag, 17. Juli: Gölä & Special Guest Trauffer
Dienstag, 18. Juli: Jamiroquai & Special Guest Seven
Mittwoch, 19. Juli: Sting & Special Guest Tom Odell
Donnerstag, 20. Juli: Amy Macdonald & Special Guest Züri West
Freitag, 21. Juli: Image Dragons and Special Guest Clean Bandit
Samstag, 22. Juli: Gotthard & Special Guest Krokus
Prevendita: Ticketcorner Tel. 0900 800 800 (1.19/Min.), www.ticketcorner.com,www.postfinance.ch/ticket oppure uffici postali, Manor, stazioni FFS, punti vendita Ticketcorner.