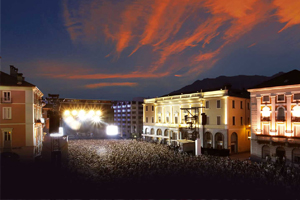 Moon & Stars Locarno 2017
14.07.2017-22.07.2017
Moon & Stars
10 jours de musique pop et rock sur la Piazza Grande à Locarno, l'une des places les plus spectaculaires d'Europe. Dans ce cadre unique a lieu le renommé festival Moon and Stars, où les étoiles du firmament musical se produisent devant milliers de personnes. Des grands concerts, une organisation impeccable et la magie du lieu sont des éléments qui rendent Moon and Stars un top événement.
 Line-Up:
Freitag, 14. Juli: Macklemore & Ryan Lewis & J-Ax & Fedez
Samstag, 15. Juli: Zucchero & Special Guest LP
Sonntag, 16. Juli: Söhne Mannheims & Andreas Bourani
Montag, 17. Juli: Gölä & Special Guest Trauffer
Dienstag, 18. Juli: Jamiroquai & Special Guest Seven
Mittwoch, 19. Juli: Sting & Special Guest Tom Odell
Donnerstag, 20. Juli: Amy Macdonald & Special Guest Züri West
Freitag, 21. Juli: Image Dragons and Special Guest Clean Bandit
Samstag, 22. Juli: Gotthard & Special Guest Krokus
Prévente: Ticketcorner T:l. 0900 800 800 (1.19/Min.), www.ticketcorner.com, www.postfinance.ch/ticket ou bien offices postaux, Manor, gares CFF et points de vente Ticketcorner.
Plus d'infos: www.moonandstars.ch